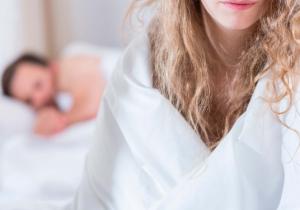 In many relationships, there is a time when the love is no longer there and one or both of the persons are looking for a way how to end this journey. Most commonly women are the one who is the ones who fight for the relationship to work, but there is certainly a breaking point.
However, today you will know some attitudes and what a woman feels when she stops loving a man, it is impressive. So do not miss it and find out what they are, take note of these 8 things that a woman begins to feel.
1. When eating together is no longer enjoyable.
When the meals start to get boring and there is no longer any more romance when having a dinner then it is clear the relationship is not on the right path. Especially when no words are exchanged and the only thing you're sitting together is the food.
2. You start to stop worrying about whether you are okay or where you are, without realizing it.
It is women's nature to be worried most of the time where their man is or is he ok. However, sometimes when women don't feel any connection with their men they stop having this feeling and start caring more for themselves and other people. This does not mean that that person is bad, it is just an indication that there is no more love left in this relationship.
3. When you say goodbye you do not feel anything at all.
When the men leave and the women don't really care for how long and when would they return than something is wrong.
4. When you feel that your partner is no longer the protagonist and does not even appear in your thoughts.
This is something really sad when you feel that this man does not appear as part of your future, where even you visualize without it and feel what is the best.
5. When you wake up and not even look at him first, you just feel like "it's just another day".
When you feel love, it always makes you happy to wake up with him; You look at him, give him a kiss and give him good morning, being one more day of love in their lives together.
6. When he is not at home, you feel that you do not miss him and prefer to be better alone.
If you feel like the longer he is absent the more time for yourself you have.
7. You realize that when you are enjoying when he is not near you.
This is when you realize that you don't need him to be happy, moreover, you feel better when he is not around you.
8. WHEN YOU BEGIN TO PROJECT A NEW LOVE.
When you constantly imagine you're with someone else and not just in an intimate way but to have something more.
Thank you for reading my blog. Please read, like, comment, and most of all follow Phicklephilly. I publish every day.
Facebook: phicklephilly                  Instagram@phicklephilly
Philadelphia, PA, USA