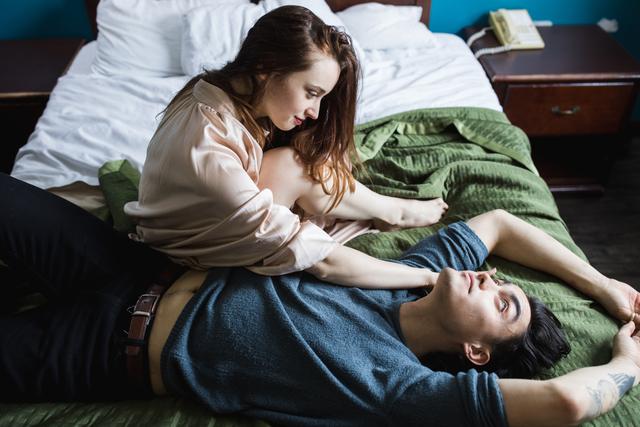 Women are often labeled as complicated by men, and this is known to everyone, is not it? It is often thought that the heads of women are heaps of mysteries and that their heart can be so deep and inaccessible that it can resemble the depths of an ocean. The truth is that most men just say that women are complicated but do not even try to figure out the reason why this happens!
The quiet feeling was to look for several reasons that may explain why women are complicated. We have been able to find 10 reasons that can unveil to men something that they have tried to understand for a long time that they are the women and a little more of their head and their attitudes. Here we leave all the reasons.
They are victims of various biological changes
Women undergo immense biological changes every month and even a single month. From the end of each menstrual cycle to the period of ovulation and again to the beginning of a new menstrual period the woman's body and the woman herself are victims of many hormonal and biological changes that will have different effects on different types of women. Faced with so many changes, women tend to behave differently. One day the woman can be happy and full of energy and the next day or even the same day at different times can already feel sad and want nothing. This is one of the reasons why a woman is complicated, but it is also true that for this very reason the woman is a warrior.
They think often with their hearts
Many complications can arise simply because many women "think" with the heart instead of using their heads and their ability to reason rationally. They tend to become emotional in very little time and the emotions make women complicated. Learn by this how to control the emotions. As far as love is concerned, what our head says is the right thing to do, but it is also true that impulsive things sooner or later end up losing interest or coming to the conclusion that it was not a good choice.
They will always be multi-tasking
Women often carry their personal lives with all the responsibilities that this entails, and also their professional life. They are always in several places at the same time, in addition they enter an infinite roll of different roles, woman, mother, daughter, sister, maid and many more. For this reason women are and will always be multi-tasking, they are like that several women within one and this as they can predict makes a woman quite complicated.
They connect to small things
Women as opposed to men rather than small things. Sometimes the small details that pass by the men or that mouth that the man says in jest can be reason to leave a woman to think or even felt about a certain situation. From the moment men can not perceive these little details, then they will not be able to deal with them either, and they will find the women complicated.
Women do not detach themselves from the past
Many women simply do not know how to forget the past and as such can not be disengaged from it. The past tends to pursue them, interfering with its present and above all with the construction of a future. As you can predict all this becomes complicated for a man who can not fit his past with the current expectations of the woman he loves.
Women make many comparisons
Women in their generality make many comparisons and judge a lot, even if not intentionally, not critically. No man likes to be compared to another, especially with other men who have passed in her life or with people they even know. Each person is a person, full of feelings, actions and attitudes and no one is equal to anyone, reason why there should be no comparisons. Comparisons and judgments only lead to complicated women.
Women criticize themselves a lot
Women criticize themselves very much. They are too harsh on themselves and sometimes suffer from low self-esteem (know how to have greater self-love). Or is the hair that is never good (although for men to always look perfect), or are the teeth that need a treatment or is the clothing that is not well-chosen, etc., etc. All this complicates the lives of men who sometimes give up praising a woman who is constantly lowering herself.
Women value their relationships very much
Women value their relationships a lot and they hurt easily when other people do not live up to their expectations. In addition to connecting very much to the boyfriend, they also connect to the family and all the various relationships. When unrequited they tend to close in their world and it becomes very complicated to understand them!
There is not always a right answer for them
There is not always a right answer for women. When a woman asks us if she is "fat," if we answer no, she calls us liars, if we answer yes, then the world falls on us. It is not always easy for a man to know the correct answer and sometimes it is complicated, especially when we are sincere and yet the woman thinks we are lying. One more reason why women are complicated.
They almost always have high expectations
Given that women always do a lot, they also expect a lot from others. Often these expectations get stuck, especially when one speaks emotionally. This hurts women a lot and often they believe that others perceive this, although this does not always happen. As such women do not say that they "suffer evil" and as such is the man who has to find out. She often can not and as such ends up just by labeling the woman as complicated.
After all this, maybe men will realize that women are not that complicated and that not all women actually get into these "games." It is sometimes important that the man be able to make the extra effort to try to understand the woman rather than just labeling her complicated.
Thank you for reading my blog. Please read, like, comment, and most of all follow Phicklephilly. I publish every day.
Facebook: phicklephilly                  Instagram@phicklephilly
Philadelphia, PA, USA