Despite it being the easiest time in history for men and women to connect through social media, dating apps, and relationship websites, Americans are having less sex. This is especially true for men, who are experiencing an alarming drought when it comes to sex. Guys, what is going on?
A sociological survey finds that the number of American men under 30 not having sex has nearly tripled between 2008 and 2018. In 2008, about 10 percent of males aged 18-30 were not having sex. In 2018, that number rose to 28 percent — the highest number since the study started in 1989. However, women don't seem to suffer from the dry spell as much as men. In 2008, eight percent of women weren't banging and in 2018 that number rose to 18 percent.
The number of male virgins has exploded in the past decade, skyrocketing from eight percent in 2008 to 27 percent in 2018.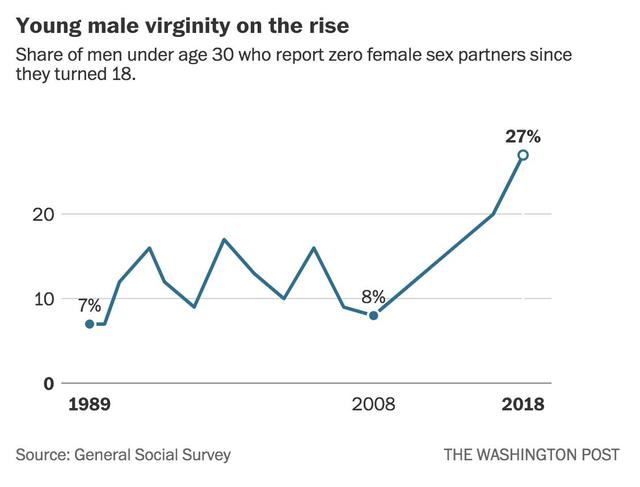 Final datapoint: the share of young men reporting no female sex partners since they turned 18 — a rough a proxy for virginity — more than tripled since 2008. I say rough proxy bc 1) some had sex in their teens and 2) some exclusively have male partners.
This eye-opening data comes from the General Social Survey, "biennial, nationally representative survey that has been conducted by NORC at the University of Chicago since 1972 to monitor societal change and study the growing complexity of American society."
Before you blame married people for the lack of sex in this study, they are actually having more sex. Married people are having more sex than they've had in the last 20 years according to the study. In 2018, only 11 percent of married people didn't get it in compared to 34 percent of single Americans.
Older Gen Z members and millennials are being-outf*cked by every other age group under 60-years-old and it's not even close.
Overall, there were 23 percent of American adults who were celibate in 2018. A good deal of that lack of the old in-and-out was due to the increase of the 60+ population from 18 percent in 1996 to 26 percent in 2018. About 50 percent of old folks don't engage in sexual intercourse.
So what's up with this worrying dry spell? Incels? Is it the Mee Too movement? Is it Post-Trump Traumatic Sex Disorder? Access to spank movies at any times and anywhere?
Thank you for reading my blog. Please read, like, comment, and most of all follow Phicklephilly. I publish every day.
Facebook: phicklephilly       Instagram: @phicklephilly       Twitter: @phicklephilly