Photoshop wizard James Fridman is known for using his incredible graphic design talents to brilliantly troll the people who request his services. It's not that he doesn't follow their directions—in fact, he often follows them quite literally. But the end result is rarely exactly what the requester had in mind.
Exhibit A:
James Fridman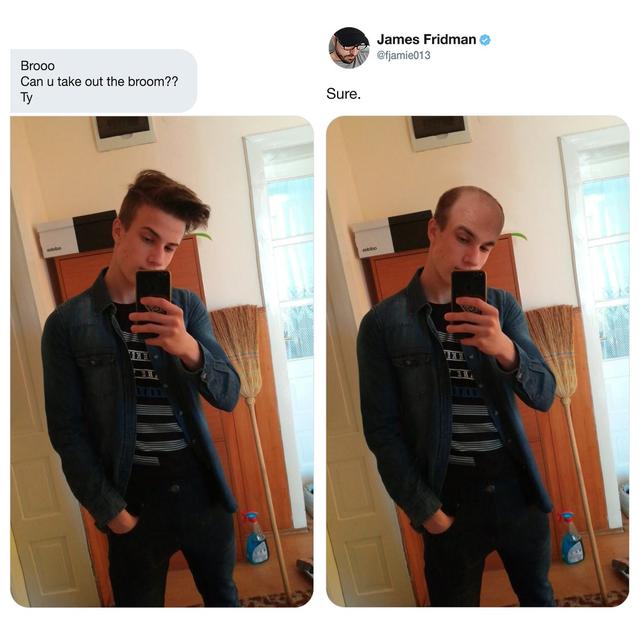 Exhibit B:
James Fridman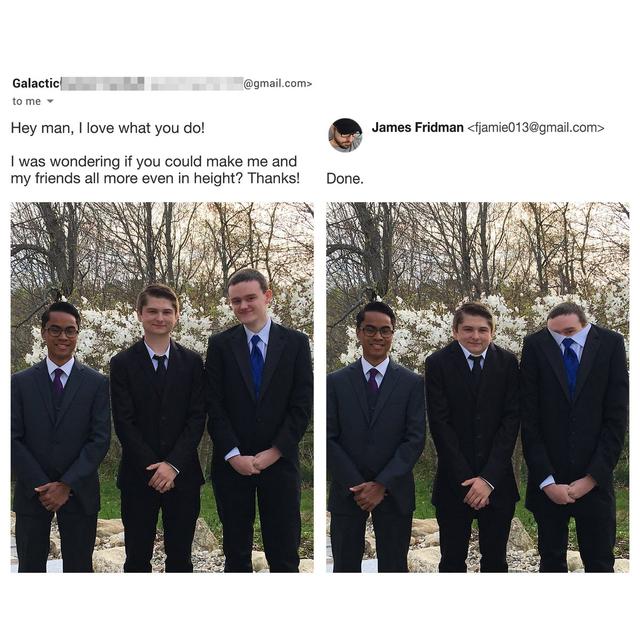 Exhibit C:
James Fridman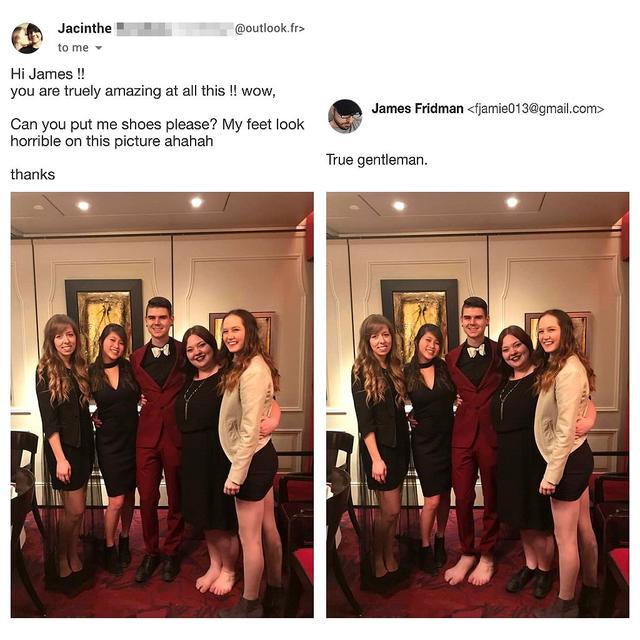 But though Fridman's end results are often hilarious, he ultimately likes to use his powers for good and to teach people a lesson about a larger social issue. Recently, he received a request from a girl who has struggled with her weight for years. The request reads:
Hey James! Love your work! Your hilarious! And knowing you, you probably won't do this and I know you get this message A LOT but here goes. Ok. So I've struggled with my weight ever since I was like…what 7? I've tried everything to lose weight too! I've done sports, ate healthy, exercises, took pills. LEGIT. EVERYTHING. but I still remain..um fat. Please just make me skinny for once it would be a huge favor! I just want to see what I would look like if I was pretty! Thanks! <3
Clearly she had a sense right off the bat that his response would not be to shrink her body to the size of a Kardashian who funnels millions into a personal trainer and subsists off laxative tea and dry cereal. And she was correct. But instead of using his photoshop skills to transform her into something funny, he used his platform to drop some knowledge, and returned her photo exactly as is. Here was his response:
James Fridman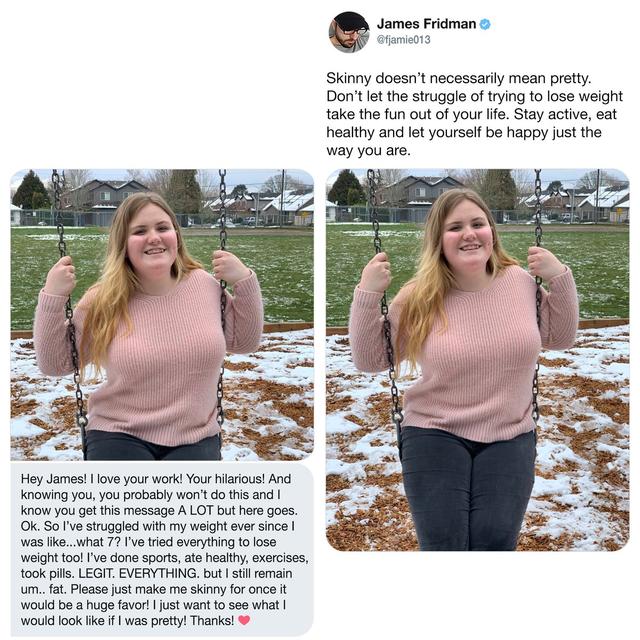 "Skinny doesn't necessarily mean pretty," he wrote. "Don't let the struggle of trying to lose weight take the fun out of your life. Stay active, eat healthy and let yourself be happy just the way you are."
That may be the best "weight loss" advice I've ever read; it's no wonder the tweet went viral with over 55,000 likes and counting. And in a rare twist, the internet has responded with kindness for once:
Gardenwife
Pretty? She's beautiful!
hails
You're a beautiful human for doing this and she is a beautiful girl!!!
Cheryl Mitchell
truer words, James. She has a lovely smile and her warmth and kindness shines through.
Turns out, this guy's wizardry skills extend beyond manipulating images. He could strike up a successful side hustle as a personal fitness guru or therapist. Twitter agrees.
Freyjinn
James is the therapist we don't deserve
LoolerMeister
But he is the therapist we need
But let's hope he never stops photoshopping. Because the world needs this brilliance:
James Fridman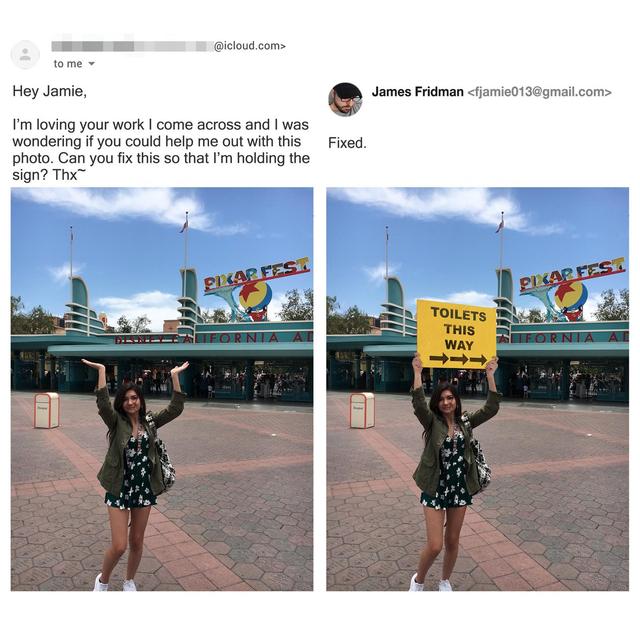 And this:
James Fridman
Thank you for reading my blog. Please read, like, comment, and most of all follow Phicklephilly. I publish every day.
Facebook: phicklephilly       Instagram: @phicklephilly       Twitter: @phicklephilly